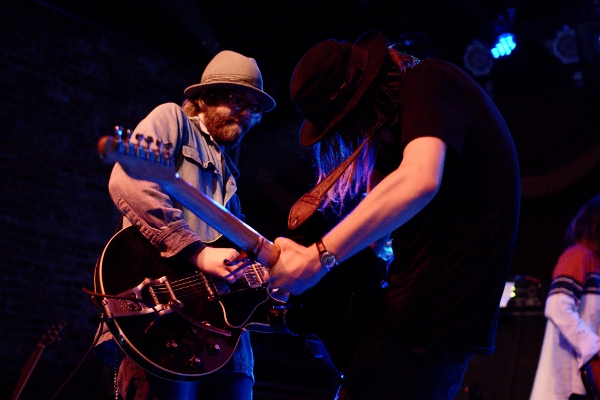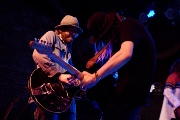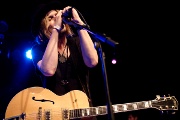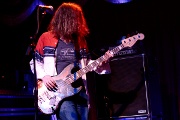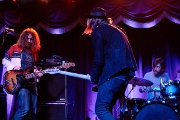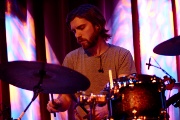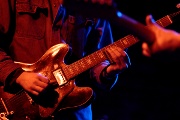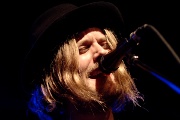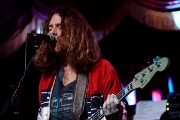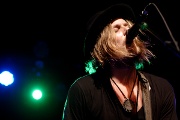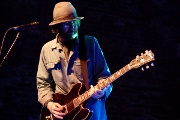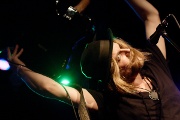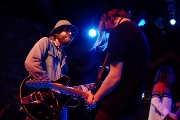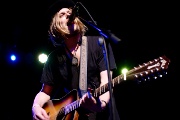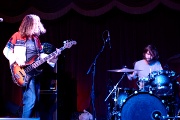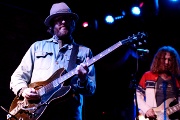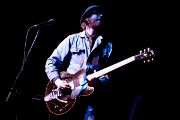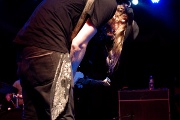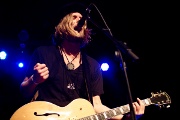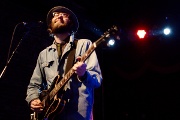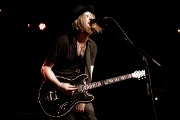 Alberta Cross at Brooklyn Bowl
Alberta Cross have no connection to Canada but their lead singer sure does sound like a Brit (which he kinda sorta is). When he speaks, that is, not when he sings. When he sings he could pass for a guy from, say, Tennessee. Appearance-wise he could pass for Jack White's meaner cousin. Of course as the singer of a band which is most accurately labeled Southern Rock he fits in perfectly.
Alberta Cross are quite good at rocking out when they get around to it (e.g. "Atx") but these guys cover so much musical ground that it takes a while to get around to it. Most songs use all five instruments and have a full and complex sound but at times they strip down to two or three and get folky. They do everything from rockers to ballads but have plenty of mid-tempo and mid-volume material. They dabble a bit in psychedelia and even Brit-pop. Doesn't "Magnolia" sound like an Oasis song combined with the drum part from "Don't Come Around Here No More"? When the keyboard moves up front they can even get anthemic (parts of "Ophelia On My Mind").
As a side note I appreciate the fact that their keyboards sound like piano, organ, or other real instruments instead of electro-bleeps. One thing their music does not need is electro-bleeps. Somewhere in Brooklyn there is a Southern Rock band which uses a Macbook in their shows. This isn't them.
Mid-way through the set they covered "Always On My Mind", a song which was a particularly big hit for the Pet Shop Boys but which had previously been covered by Willie Nelson and Elvis Presley among others. It is a song with a proper country pedigree, sensible for a Southern Rock band to cover. Their take on it was pleasant enough and sounded like Willie Nelson's version, actually. However unlike the Pet Shop Boys they did not make the song their own. It was just a cover.
I think the same can be said for their music more generally. Listening to them perform I could not shake a sense of familiarity despite the fact that I had not heard their songs before. As broad as Alberta Cross's repertoire may be their music is not groundbreaking. They have managed to create a coherent style from a wider variety of musical idioms than most bands and managed to sound good doing it, but their individual songs fit into familiar stylistic categories. Perhaps they save the more experimental tracks for their albums? If so, I want to hear them.