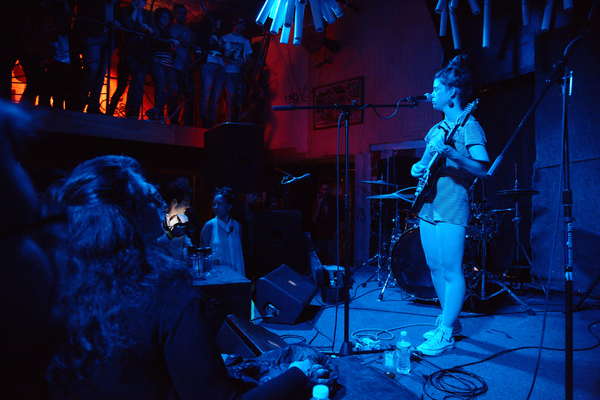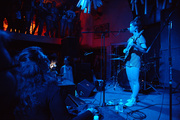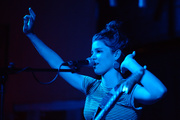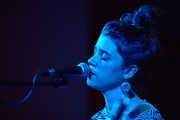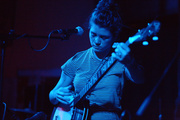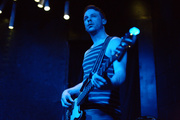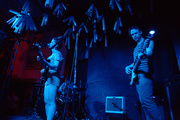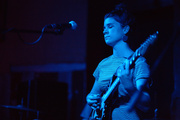 Lady Lamb The Beekeeper at Glasslands Gallery
Silly me, I just wrote something about how how hard it is to take photos at Glasslands, then I took some photos at Glasslands. Silly me. I guess they turned the lights up a bit this time? Not much, but a bit.
I was introduced to Lady Lamb the Beekeeper during her time as a solo artist. She's this little lady with a really big voice. When she sings with soul she just blows people away, and she has decent guitar chops too. Obviously quite a few people aside from me have become quite impressed with her over the years since she is now headlining at venues like Glasslands.
Seeing her with a band is a little different than catching her solo show. The fellows in the rhythm section don't sing (probably just as well) and only play on some songs. When they do join in they add a sense of urgency to the music, making it a bit less like folk and a bit more like rock. This makes the pacing is more predictable, which also makes the music less personal. You know she isn't going to draw out one particularly noteworthy lyric or stop the song to crack a joke or anything like that. With the band it becomes less of a performance and more of a show.
Perhaps that is what happens when an artist goes from playing small rooms to headlining at medium-sized venues and touring Europe. Artists have to change and grow, such is life and all that. And as a side note I don't recall seeing her play banjo before either. Of course changes like that can alienate lazy old fans who still want to see the exact thing they're used to seeing. Perhaps aware of this, Lady Lamb The Beekeeper does some songs in the old solo style, some of the new accompanied style, and occasionally does something totally different like playing that banjo. That's probably the right compromise.