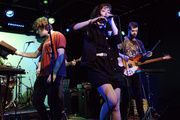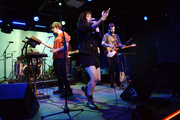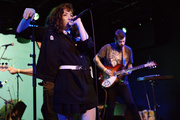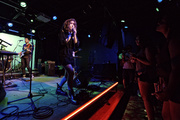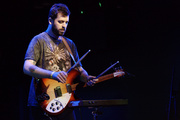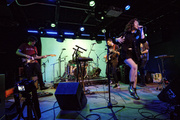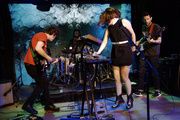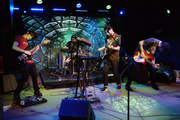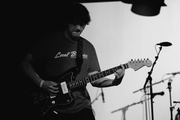 Den-Mate at Milkboy ArtHouse
Den-Mate started out as a solo bedroom recording project but they've massively expanded their sound. Going from one musician to five (and fomerly six!) will do that, of course. Singer/songwriter Julia Hale has said in interviews that she wanted to add a punk quality to her sound. Well, she certainly did that... and has been known to fling herself into the audience and mosh with her fans.
Not that Den-Mate are s punk band mind you. They actually remind me of some of the darker New Wave bands, especially Siouxsie and the Banshees without the vocal harshness. While the songs are often contain foreboding lyrics and melancholy chords they also have enough pop catchiness and punk urgency that they feel upbeat on the whole. Think of The Smiths, who write surprisingly peppy songs about hitting children and the like, but less lackadaisical. Julia Hale is a better candidate for the American Morrisey than Lana Del Rey is, that's for sure.
I should add that once in a while Den-Mate performs solo. Confusingly "Den-Mate" can refer to either Julia Hale solo or the full band. Mostly she performs the same songs, though there are a few which are specific to the solo shows. That's quite a trick performing the same songs both on solo guitar and with a five piece and making it work so well both ways. I suppose it's not unheard of, though. Peter Murphy has a somewhat similar sound and he does acoustic shows, right?
Did you notice that I just compared Den-Mate to a bunch of British bands? I get the feeling they might be operating in the wrong market. Hey British people, do you want to be hipper than your friends? Of course you do that's why you're reading my blog (heh). Anyway, write up Den-Mate in one of your U.K. music rags and break this band in England and you will be the coolest person ever, I promise.