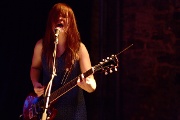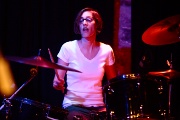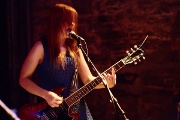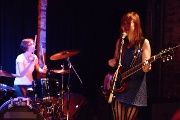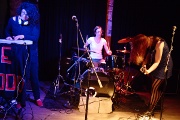 Wojcik at Bowery Electric
If I recall correctly the last time I saw Wojcik they were a two piece and the drummer was a fellow. That is to say that a different, male person was the drummer last time. The core of the band is lead singer and guitarist Hailey Wojcik who seems to be backed by a revolving crew.
Now the problem with having a revolving crew is that any given lineup hasn't practiced together so much. The first show with a particular lineup is a little like the first show by a new band. This was the first Wojcik show with this new lineup. While songs like Spidersilk and Wise Blood were solid enough to show what the band is capable of, a couple of other songs were awfully messy. They just didn't sound like a band which had been around for a couple of years. Because of course they haven't been.
Wojcik have plenty of heavy songs which sound like 70s hard rock, or perhaps like Kyuss and its descendents. Other songs are more atmospheric or even experimental. It is kind of hard to believe that the same band recorded "The Magician" (a typical Wojcik song) and "Phantom of the Lake". The latter sounds is the sort of minimalist number which a darkwave artist (The Black Heart Procession?) might put at the end of an album. They have incorporated field recordings into some of their songs, in the intros if nothing else, which is not exactly common among hard rock bands. Perhaps the band is still trying out new musical identities? That might explain the lineup changes too. At the very least they aren't "just" a hard rock band even if Hailey Wojcik does thrash away on her guitar every now and then.