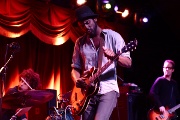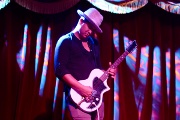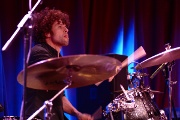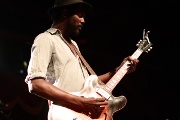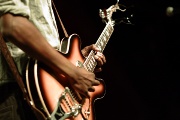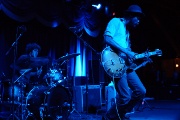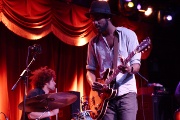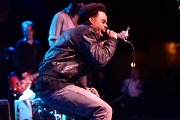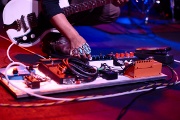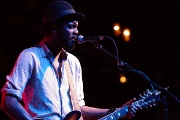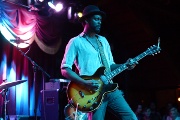 Gary Clark Jr at Brooklyn Bowl
It is strange to think that the Blues predates the electric guitar. No other instrument screams and moans and suffers like the electric guitar, unless you count the human voice. They were made for each other. Consider this: how many bluesmen can you name who are known for their banjo playing, or even for their acoustic guitar playing? Now how about for their electric guitar playing? I can think of a few: BB King, Bo Diddley, Stevie Ray Vaughn, and a fellow named James Marshell Hendrix who people at the show kept bringing up.
Gary Clark Jr. is one incredible blues guitarist and actually a rather good singer as well. Not that there is anything wrong with being scratchy-voiced in this genre but Gary Clark is more the smooth and subtle type. A few of his quieter songs even qualify as pretty. He is if you will a "better" singer than many well-known blues musicians. Interesting, then, that so many of his songs feature guitar solos which are longer than the vocal parts. His voice rides upon a wave of guitar noise which ultimately breaks over it. Those groaning electric guitars are the heart of his best songs. Check out exhibit A. Of course other of his songs are more poetic and pretty. He can do both, but he is most potent with that guitar.
The house was packed, and because of this I learned an important lesson. About photography, not about the Blues. When taking pictures at Brooklyn Bowl make sure to stand at stage left. Stage right is next to a wall but stage left is next to the bowling lanes, and at any reasonably crowded show some of the audience will stand in the walkway up there. It had not occurred to me before that the center of gravity of the crowd is towards stage left and that bands tend to arrange themselves with this in mind. Gary Clark Jr. stayed to that side most of the time and tended to turn to his left. I should have been over there. My bad.