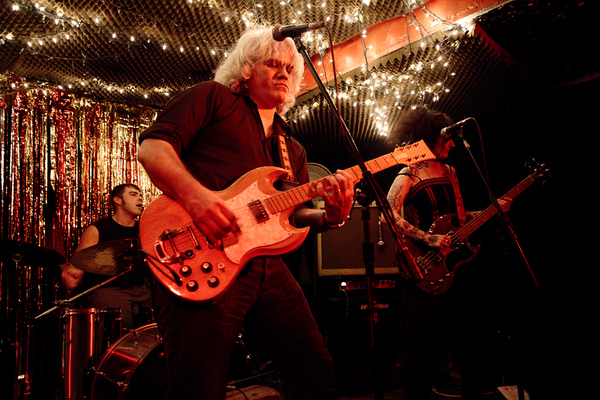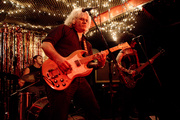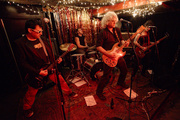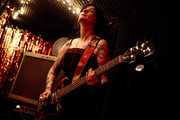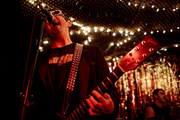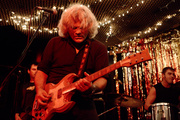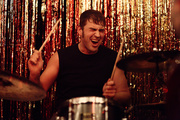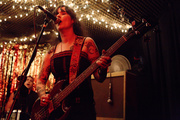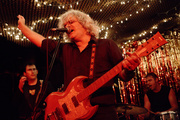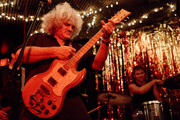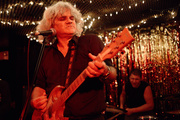 M.O.T.O. at Cake Shop
I do not know for a fact whether every M.O.T.O. song is in 4/4 time as suggested by lead singer Paul Caporino's "a 1-2-3-4" intro to most of their songs, but I can certainly believe it. M.O.T.O.'s music is about the most straightforward rock-n-roll ever. Their songs use lyrics and chords sparingly, just a few per song, but are chock full of bouncy, boisterous energy.
Their sound has been called "caveman rock" but I would say it is more like "neanderthal". Think about how early rock music evolved into punk rock. Can you imagine an alternate evolutionary path, one which led to something which is just as loud and just as simple, but somehow... different? M.O.T.O. is that other, the one which is just a little funny looking but is basically the same thing and can still pummel you senseless. The biggest difference between this and punk is that M.O.T.O. is rarely serious. They aren't protesting or dwelling on negativity, they're just trying to have some fun. And they succeeded yet again.